The cold, darker months are upon us. Winter is officially here and for homeowners, it's this time of year when keeping homes warm can be a challenge. We've come up with our top tips for a warm home this winter, to help you make the most of the valuable heat in your home and ensure you have a cosy Christmas.
1. Fit Foils Behind Your Radiators
Radiator foils are one of the most simple and effective ways of maximising the heat generated by your radiators, saving you money on your energy bills and in turn reducing your carbon footprint. Radiator foils work simply by reflecting the heat coming out the back of your radiator back into the room, as opposed to letting it escape through the walls of your house. Additionally, look at the positioning of the furniture in your home; any furniture in front of your radiators will be blocking the heat.
Using regular tin foil is not recommended, not only can it be potentially dangerous – it does not do the job as well. Specialist radiator foil can be picked up in most hardware stores for under £10 and fitted at home without the need for a professional.
2. Double Glaze Your Windows
Double glazing your windows is one of the most effective ways of keeping your home warm, and despite the initial investment will save you money on your heating bills in the long run. It's estimated A-rated windows can reduce your home heating bills by up to £325 annually. There is also the option to invest in triple glazing, this third layer improves the thermal and acoustic properties of the window, but comes at a further cost. You can read more about the two options, and which may be more suitable for you here.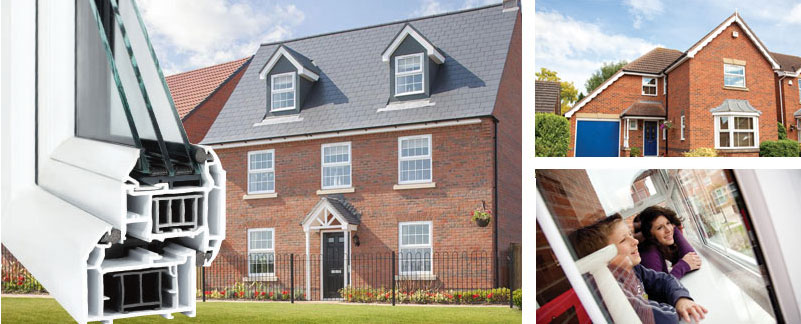 3. Cover The Drafts
Drafts coming into your home also mean valuable heat leaving your home. Older doors are one of the most common offenders, to combat this; you can buy door stops that sit at the bottom of the door where the majority of the heat will be escaping. Alternatively, purchasing a new door will eliminate any drafts coming into your home via the door. To prevent the movement of cold air throughout the house, always keep your internal doors shut at night or whenever a room is not in use.
4. Upgrade Your Boiler
If your boiler is more than 10 years old – upgrading to a more efficient newer model will save you money. A-rated boilers use less energy to produce the same amount of heat. Additionally, a newer boiler is much less likely to experience an unexpected breakdown throughout the winter period.
Use Your Curtains Properly
It may seem obvious, but too many people are missing out on heat by keeping their curtains open or shut at the wrong times of the day. Open your curtains during the day to let the natural sunlight into your home, when it gets dark, shut your curtains, these act as another layer of insulation. Note that thicker curtains will obviously work as better insulators over thinner ones to help keep your home warm.
5. Install A Programmed Thermostat
Installing a programmed thermostat helps you manage your energy bill and ensures you can come home to a warm home without having to leave your heating on all day. Nowadays, there are several programmed thermostats on the market that can be linked to your smartphone – allowing you to monitor the heating in your home on the go.
6. Wrap Up Warm!
One of the most cost-effective ways to stay warm this winter is by wrapping up warm, so don't be afraid to dig out your favourite Christmas jumper! Hot water bottles and electric blankets are also a great way to stay warm when in bed – allowing you to turn down your thermostat a few degrees.
7. Energy Efficient Windows and Doors For Your Home
There's no better way to keep your home warm this winter than investing in A-rated windows and doors. At Three Counties, all our products are designed for superior home insulation – to reduce your heating bills and stop valuable heat from escaping your home. To find out more about our range of windows and doors give one of our friendly team a call on 01252 414800 or why not use our front door designer tool.