White uPVC Casement Windows with Georgian Bars, uPVC Door & Grey Composite Door with Side Panels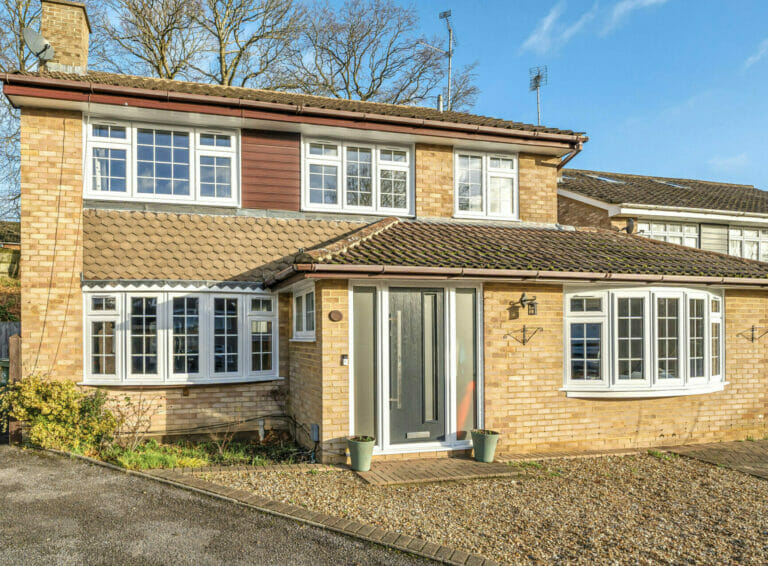 Our company recently completed a comprehensive home installation project in Fleet, which involved installing 16 uPVC windows with Georgian bars to the front and standard to the back of the property. The homeowner's old windows were over 15 years old and had become drafty and inefficient, causing rising energy costs and decreased comfort in the home.
Duraflex Casement Windows
Our team recommended the use of Duraflex Casement Windows, which offered excellent insulation and enhanced the home's aesthetic appeal. The new windows not only provided an upgrade in terms of appearance but also helped to reduce energy consumption and lower utility bills, a benefit that the homeowner was excited to enjoy.
Grey Composite Front Door and uPVC Back Door
To enhance the home's security, the customer also opted for a uPVC back door and a grey Composite front door with a Long Bar Handle to complete the installation's sleek finish. The addition of the doors not only enhanced the home's overall look but also provided an extra layer of protection against intruders.
The Installation Process
The installation process took our team a little over a week to complete, with the process beginning with the upstairs windows and ending with the downstairs windows. Our experienced team of installers worked diligently to ensure a smooth and safe installation process, paying close attention to detail to ensure the homeowner's property remained undamaged.
We take pride in delivering high-quality home installations that offer practical benefits and aesthetic upgrades. Our team of experts is committed to delivering excellent service to our customers, and the Fleet installation is an excellent example of our dedication to quality workmanship. The installation transformed the home and added value and style that will last for years to come.
In summary, if you are looking for a comprehensive home installation project, contact us today. Our team of experts is ready to work with you to provide high-quality products and services that will exceed your expectations.